CARPOOL KARAOKE WITH ADAM LEVINE
Porsche sports cars are the pinnacle of a high performance driving experience but among younger affluent audiences, the legendary Porsche brand is not as well known. The launch of the new 2019 Porsche Cayenne was the perfect opportunity to convince a new generation of drivers that Porsche is the very definition of a sports car.
To launch the campaign, we looked for a way to demonstrate the visceral thrill of driving the Cayenne, and the joy of sharing that experience with other passengers. A plan was hatched to put the new Porsche Cayenne in James Corden's wildly popular Carpool Karaoke segment from the CBS Late Late Show. But only one other advertiser – and no other car company – had ever been integrated into the segment.

DRUM leveraged its strong relationship with Maroon 5's Adam Levine to secure the product placement deal with CBS and Carpool Karaoke. DRUM seamlessly positioned the brand as an authentic part of the Carpool Karaoke experience, not just in the commercial spaces in between the show. The campaign sees Adam Levine join James Corden as they hit the racetrack at the Porsche Experience Centre LA and perform some of Maroon 5's best known hits including Moves Like Jagger, Cold and Sugar. Beyond the Carpool Karaoke integration, we went a step further in our partnership with Adam Levine to introduce the newest member of the Porsche family, the all-electric Mission E. Featured briefly in the Carpool Karaoke segment, the Mission E was the subject of a 3-minute film featuring Adam taking the highly-anticipated new vehicle for a spin. The film celebrated Adam's love of the Porsche brand and his genuine excitement about the soon-to-be-released electric vehicle.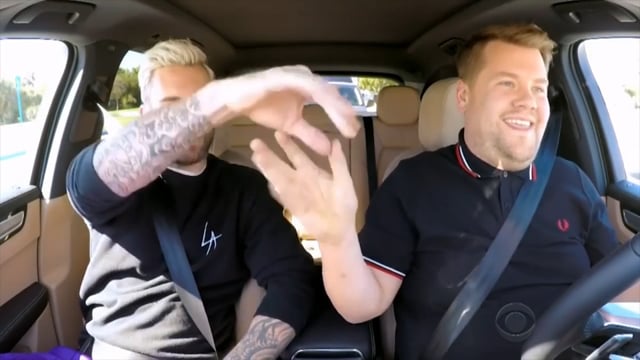 RESULTS
Porsche had 100% share of voice in pre-roll advertising on YouTube and CBS.com until the views broke through the 2.5 million mark, our original guarantee of impressions.
Views continued to climb both organically and via paid media support and, by mid July, were at 9.4 million and growing. Total impressions of the social media posts climbed to 12 million, nearly four times higher than the goal for the program. Mainstream press coverage amplified exposure to the program, with of news reports in USA Today, Rolling Stone, People, Cosmopolitan and dozens more. The marketing press took note of the ground-breaking integration in articles from Adweek, Variety and Business Insider. Only Carpool Karaoke had the cultural firepower we needed to establish the Porsche brand with a new generation of drivers. In the week following the launch of the segment, buzz and word-of-mouth metrics among adults 18-34 were up +75% and 175% respectively compared to the weekly average for the quarter according to YouGov. Likelihood to consider buying Porsche was up among this age group by +25% during the same period.

PERCENTAGE INCREASE
Word of mouth metrics
adults 18-34
+75%
OTHER
Likelihood to consider buying a Porsche (18-34)
+25%