CONTINUITY BAT
Warner Brothers briefed the agency to come up with something that would attract the attention of a broader audience to maximise the appeal of its latest movie release – The Lego Batman Movie.
There was no danger of Drum producing a 'difficult second album' for Lego, despite the resounding success of 'The Lego Ad Break' campaign for The Lego Movie that preceded it in 2014. Once again, Drum rose to the challenge with a bold, relevant and disruptive approach that was fully integrated into pop-culture and made Batman as relevant to film lovers in their 30s and 40s as it is to kids.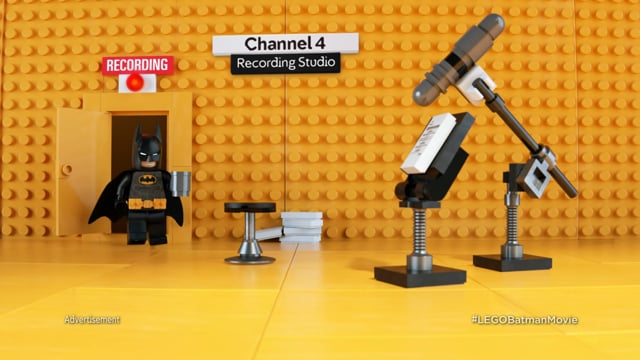 RESULTS
Cannes Lions Award winner for excellence in partnerships for branded content
It was seen by 40% of the population in only four days, and one in six viewers booked a ticket to see the film as a result, delivering an ROI of more than £17 for every £1 spent. 81% of people who saw the announcement films thought that The Lego Batman Movie was going to be funny, 78% thought that it would be an entertaining film for the whole family, not just the kids and 80% of them did something as a result – either watching the trailer or booking tickets. Most importantly the film launched the following weekend in the number one spot at the box office, a position it held for three weeks. Holy effective campaign work, Bat-fans!
PERCENTAGE INCREASE
How many people after seeing the ad
through the film would be funny
81%
CANNES ENTERTAINMENT LION
Bronze Lion Winner