THE TOP ANSWER
Wynne Evans and his operatic alter-ego, Gio Compario, are the friendly faces of Go Compare's TV advertising – who bring a whimsical, warm flair to finding the right insurance policy. With an ambition to partner with a major television network, the client tasked us with elevating their buddy comedy and promoting Go Compare's message – which saw us devising an unexpectedly engaging way the pair could show up and entertain the nation at primetime.
With Family Fortunes returning in the autumn with host Gino D'Acampo, we proposed a series of mini episodes – to run within the first ad break of the show – where the duo (along with their "families") were playfully pitted off against each another, aiming to answer real-life survey-based questions related to an element of insurance cover. As comedy hijinks occurred within each episode, one thing was always missing… the top answer. So, in a UK first, the gameshow became interactive with the question handed over to the audience at home for the chance to win prizes.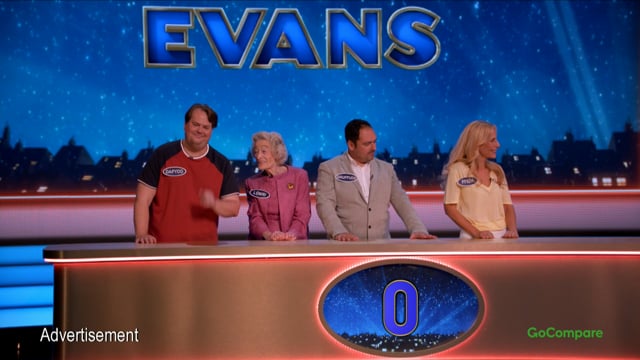 RESULTS
57% of viewers said the partnership showed a sense of humour, with 94% of people saying they liked it, clearly showing that alongside expert knowledge in insurance, we knew a thing or two about entertainment.
Our partnership with Family Fortunes saw that 79% of viewers did not find the campaign annoying, with 37% of those even saying they were more likely to visit GoCompare as a result.
PERCENTAGE INCREASE
Liked the ad
94%
OTHER
Did not find the video annoying (up from 37%)
79%